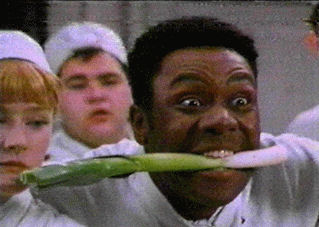 I stumbled upon this tv show one late night of no sleep. I watched one episode and i was hooked. CHEF! is a Brittish comedy about Gareth Blackstock the finest chef in england, possibly even the world!? Le Chateau Anglais, finest French resturant in England. If anything in the culinary world can go wrong, will go wrong for Gareth, but like a true chef he makes it work.
I'm not sure how may 'normal' people (people who are not in the culinary world) could actually sit down and actually appreciate it and giggle at it for other reasons than it's a "comedy" 1. who gets brittish comedy? 2. who gets culinary jokes/issues if you arn't in the culinary world? 3. who gets brittish culinary comedy?
CHEF! IMDB
It has become one of my favorite things to watch! It tackes culinary "issues" from food critics and famous chefs who you do not want to dissapoint and you'll do anything to please them by making the perfect salmon mousse, and battling the law for unpasturized stilton cheese. To kitchen 'relationships', love life and family wise, having to fire your boss' daughter. Hiring people who don't belong in a kichen at all!
Sadly it was only on for three seasons, you can catch re-runs on channel 10KTEH, it's always on at odd hours so keep an eye out for it. Or if you really want to see it you can
purchase the DVD's season 1-3 for a pretty reasonable price an amazon.com
( if anyone is thinking about something to get me..hint hint)